Ambient music consists of 'droning chords or vocals' that often have no structure or beat. I like to buy ambient sample packs and use the samples in the intros, breaks, and outros of my drum n bass tracks.
I'll add ambient samples once i have the basic structure of a track laid out. The ambient sounds add a nice break from a hard, fast drum n bass beat.
How i add Ambient Samples to my Tracks
I'll start a brand new track with a pro tools template that has about 4 or 5 virtual instruments and effects applied to each track. (i included a pro tools template for you to download when you sign up to my newsletter)
I'll start the new track with a melody or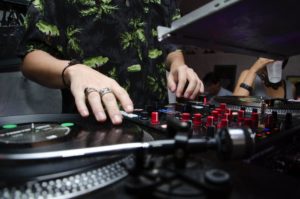 bassline. I'll begin by entering notes in midi at random and play it back to see if anything sounds interesting at all.
Then, i take the interesting parts and build off of them. I keep doing this until it eventually develops into a structured song.
I use a combination of synth sounds (i use the xpand2 soft synth) and effects that i know will sound good together because i've used this pro tools template for many different tracks. Using a template allows you to put tracks together very fast.
After I have a decent bassline or melody, ill add a drum loop really quickly to give me an idea what it will sound like with drums.
Once i have a basic melody, bassline, and beat, i'll go over it with a second set of individual drum sounds, including 808's, snare, hi-hats, and some percussion.
Then, once i have a few basic parts, ill try to arrange it into more of a song with an intro, lead parts, breaks, and outros.
This is where i add some ambient samples to fill it out and add a pleasant sound during the break to provide some tension release after a hard, fast drum beat.
Its fun to work with new sample packs, because its like buying art supplies to paint with, or a new instrument to work with.
Where i use Ambient Samples in a track
When i pick out an ambient sample to use, I'll find a piece of audio that is very wide, very spacey, and in the same key (or close enough to pitch shift it) as my song.
I like to work with pleasant, consonant sounds because they sound really good as a relief from the tension of a fast drum n bass beat.
I will usually add ambient samples to an intro, second 8 bars of the lead melody, the breakdown, and the outro.
Ambient samples sound really good when you have the lead melody playing by itself, then you bring a very wide, reverbed out ambient sample. Then bring in some drums with the main lead part.
What I look for in an Ambient Sample Pack
I would say that the most important thing when your picking out an ambient sample pack is that you need high quality loops and unique sounds that are in the same key or relative key as the track you are working with.
Sometimes the pitch can be shifted without much damage to the sample. But, if you shift it too much it might make it pretty unusable.
The tempo of your ambient sample isn't quite as important as it is with a sample of a melody or drum loop.
With drums or a melody samples, the tempo needs to match up exactly. You can usually shrink or stretch it without artifacts if they are off by 10 bpm. But it doesnt really need to match up with your ambient parts.
But, working with ambient samples is a little different. It is just a 'droning' sound that doesnt really need to fit perfectly. You can just trim it to fit into your track.