Hi Guyz. It's me again. PuzzleVortex. Below, i review the Serum VST Wavetable Synth. BUT first, I have confession to make…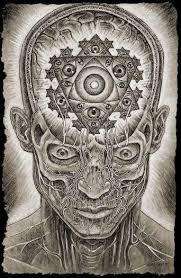 I just bought about $2000 worth of gear that i can't afford. I put it all on layaway at Guitar Center. (dont judge me ;/)
Within the last month i bought a Pioneer DDJ-SX2 Dj Controller, Ableton Live Standard Edition, Serum VST Wavetable Synthesizer, and an Ebow.
I needed new gear because my production was getting stale. I think these new tools will help me improve, and change my sound.
I've been testing lots of new DAWs, plugins, and hardware. I think reviewing them will help my own production, but also to help other producers learn about new gear.
Below, is my Serum review. (spoiler: I love it.)
My Serum VST Review
So, 2 weeks ago, I bought a new DAW, Ableton Live.
I'm getting the hang of it, but there's a learning curve.
I like Ableton because it is more of a writing tool and DAW combined. I love its advanced midi tools. I can create a track very quickly, and revise it very easily.
Along with my purchase of Ableton, I also bought an Advanced Wavetable VST Synth Plugin called Serum.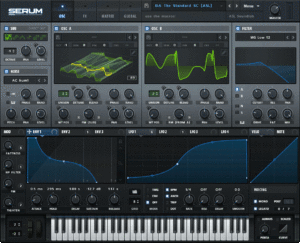 The Ableton Live (Standard Version)  comes with 100's of samples and virtual instruments.
BUT, i personally think the Ableton Standard sounds are just average.
The Serum VST Synth Plugin is by far superior to the stock sounds.
I needed to own it. (so i got it with Xfer's rent-to-own plan)
Here are the main features of Serum VST:
4 sound generators
2 wavetable oscillators
a flexible noise generator
and a nice sub oscillator.
10 effects processors
Serum's Interface
Serum's interface looks pretty damn slick, and is extremely easy to use.
You can even use images as Wavetables (<—see left).
There are also a multitude of parameters to modulate and automate.
The cost of Serum is $189.
The only negatives of Serum are that it might be a little taxing on your CPU power. But, i haven't had any problems so far. I've only made one track in Ableton so far, and i haven't had any problems with my CPU power. (I'm on a macbook pro 2.5 gz)
Creating Midi Parts, Then Cycling through Serum Presets
One of the ways in which Ableton excels, is with its midi tools.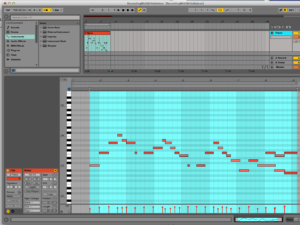 Ableton allows you to: create variations on your midi parts, put them in double time with 1 click, reverse them, put them in a different scale, add an arpeggiator, there are unlimited possibilities.
One of my favorite things to do when i create some midi parts, is to cycle though all of the presets in Serum. (especially with basslines)
Serum really excels with its bass and lead sounds.
It is very inspirational to create midi parts, then cycle through Serum's many different, unique sounds.
Drawing in Plugin Automation with Serum
One way to get evolving, changing, morphing sounds out of Serum, is to automate and draw in some parameter changes.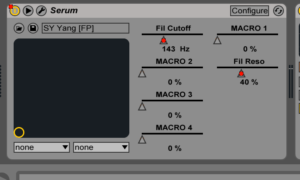 This is very simple to do in Ableton.
In order to automate parameters, all you have to do is click 'configure', in the upper right corner of Serum.
After you click 'configure', the plugin will open.
Then, you can tweak any of the parameters in Serum.
The parameters you 'tweaked' will now show up in Arrangement view.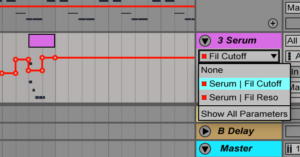 You can then draw in automation of parameters like the filter cutoff, or resonance on the Arrangement view.
Download Serum Presets Here
I just got Serum, So I haven't created my own Serum patches yet. But, here are some links to some Serum presets i found, which you can download below:
Other VST Synths You MUST Check Out
I also tried a demo of very cool synth called Cycle. (d/l the demo here).
Cycle is a "visual workflow for synthesizing sound at the waveform and spectrum level."
Cycle allows you to 'morph' a sound over a period of time. It has some great sounding patches. I need to spend more time with it. It is worth testing the free demo. The Cost is $150.
It also looks very, very cool.
The Massive VST Synth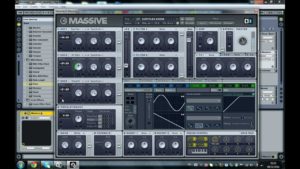 One other VST Synth plugin that i've heard great things about, is the Native Instruments Massive VST Synth.
I've not had time to test it yet. But, I've heard its on the same level as Serum.
It is a synth you should test out. Download the Massive VST demo here.
More Xfer Records Plugins
Since I was really impressed with Serum, i decided to check out the other plugins that Xfer offers.
They include:
Cthulhu: The Chord and Arp Monster
Nerve: a beat manipulation and creating tool
 LFOTool: for tremolo, auto-pan, trance-gate, side-chain compressor simulation, and dubstep-type wobble effect creation.
They offer demo versions of these plugins, so i think i will give them a shot. (you can d/l the demos here). I am particularly interested in testing Cthulhu. (Video  Below)
*I plan on doing many more reviews. If there is any DAW, Effects Plugin, or Synth you want me to try out, pls contact me on twitter @puzzlevortex