808 drum samples are used in many genres of electronic and rap music. They give a low end sound that hits you hard like a rock guitar, and they work really well in drum n bass, trap, edm and hiphop music.
This popular drum sound comes from the Roland TR-808 drum machine.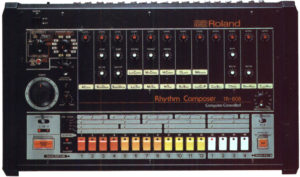 This sound is basically just a sine wave and can be made by any modular synthesizer.
If you have this type of modular synth (hardware or software), you can make your own.
Download a free pack of 808 samples when you sign up to my newsletter here. <—-
How to Add Effects to 808 Drum Samples
808 drum samples sound good on their own. But, in a lot of tracks, they can be heavily effected. Here are some of the effects i like to put on an 808 kick:
Distortion – A distortion or lofi plugins sound really good on an 808 kick sound. This type of sound is currently very popular in trap music and hiphop. This is probably the most common effect you'll hear on an 808 kick
Reverb – A short reverb is something i tend to add to my 808 kicks. You can even add in a bigger sounding reverb on parts of the song like the intro or pre-chorus, and pull in and out during the song using plugin automation.
Chorus – Sometime i use a little bit of chorusing on my 808s to make them wider.
Layering Kicks with an 808
Layering different types of kicks that occupy different parts of the frequency spectrum on top of your 808 sounds really good.
One thing i like to do is cut off some of the high end of an 808 with a low pass filter. Then i will layer a boxier sounding kick (like a rock drum kick sound) on top of the 808. Layering different types of kicks makes your kick sound huge and fills out the frequency spectrum.
Sometimes i even layer percussive sounds like a chopped up synth part or a high hat to make it really sound big in the mix.
Using Pitched 808 Kick Sounds
Since an 808 kick drum is made from a synthesizer, it has a pitch which you might want to match to the key of your track.
Most of the time, when you add a kick, you dont really think about the pitch. But, with a tuned 808 you want to match it to they key of your song, but with 808s you can create your own melody out of tuned 808 kicks.
These days lots of rap music is pretty sparse sounding, but they make use of tuned 808 kicks to provide a bass progression. This would sounds especially good if you don't have alot of extra instrumentation going in in the track.
Making Your Own 808 Kicks
Here's a vid that explains how you can make you own 808 kick with Native Instruments Massive Softsynth.

Dont forget to sign up to my newsletter here for some free 808 kicks (i'll send you lots of free drum samples, synth loops, and softsynth settings) and also follow me on Twitter @puzzlevortex